Sanako Study Range
Software Only
Language Centres
Recording and automatic collection of student audio files for oral assessments by whole class
Automatic file distribution to students
Pair-work, telephone calling & group discussion features for role play activities
Students record their answers to pre-recorded questions for speaking practice or image description
Classroom monitoring and control
Limit access to certain files & web pages in exam mode
Differentiate work by grouping students on similar tasks
Self-marking vocab testing
Text to speech technology for audio texts
Automatic voice insert for teacher feedback
Model imitation for drill exercises
Video pairing for BSL Sign Language teaching and lip reading
Examination and test modes
Pass the microphone function for group conferencing activities
Sanako Study Range
Software Language Centre
For educational institutions who want their MFL & interpreting lessons deployed locally
The Sanako Study 1200/700 Range of today's professional language centres encompass so much more than simple one to one audio and classroom management options.
The latest systems are highly interactive and flexible systems designed to work both in and out of the classroom environment, for Modern Foreign Languages (MFL) and general cross-curricular teaching such as conference interpreter training.
You can create a language centre in any dedicated PC suite, or turn any classroom into a language lab by using wireless laptops and tablets. With the student software installed, the computers can also become independent study positions for learners to practise on their own in school or at home.
Designed around the concurrent perpetual user licence system the Sanako Study range of language centres is easy to deploy & maintain with no compulsory ongoing costs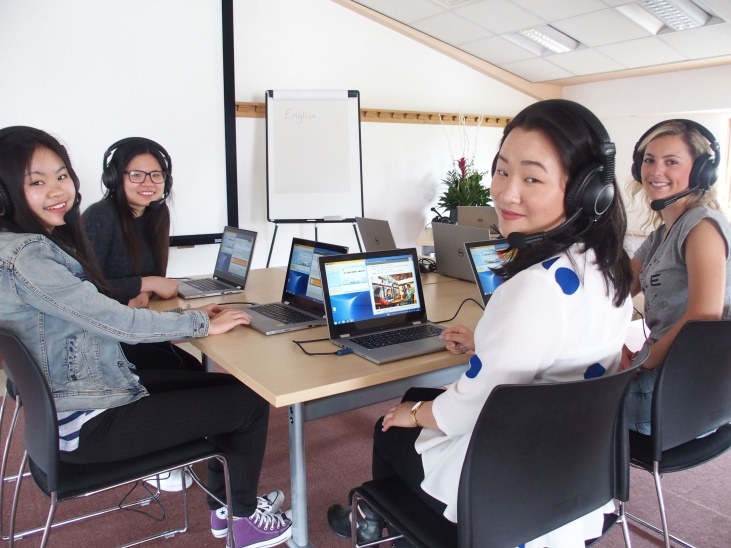 Fully supporting the National Curriculum for MFL and many conference interpreter training requirements, Sanako Study Range is fully GDPR compliant and works on most school & university networks.
The teacher can carry out live oral assessments whole class or group simultaneously or set up various live role play and pairing activities, all aimed at spontaneous speaking and listening activities. The teacher is always discreetly monitoring student progress in the background and can offer live support and feedback when required.
Sanako Study Range deployed in Schools, Colleges & Universities
Sanako Study Range
Sanako Study 700 is an entry level language lab offering the most basic features, which can be easily upgraded to the full Sanako Study 1200 system later to take advantage of the additional functionality of the top of the range language lab.
Simple yet versatile the Sanako Study 700 system provides the busy languages teacher with all the tools required in today's MFL teaching classroom. May activities such as Oral Assessment, Role Play, Image Description etc are focused around the new GCSE examination practice.
Watch The video to discover more about Sanako Study 1200/700 Range
Spend more time actively speaking with students individually
Sanako Study Range helps language teachers increase the time your students spend speaking and actively learning during classes and this improves their overall performance and improves results
Time saving activities
Sanako Study Range saves you time by allowing you to drag and drop exercises to students and collect them back automatically
Improve the most difficult parts of language learning
Sanako Study Range improves even the most difficult part of language learning, like pronunciation and intonation, with model imitation and a wide array of live discussion activities