Sanako Conference Interpreter Training
Hardware, Software & Online Conference Interpreter Training
Hardware version duplicate a real world feel
Software system simulate a real world conference session
Online systems support both hardware & software solutions
Online element will work on any device with internet connection
Delivery both synchronous & asynchronous sessions
Two channel recording and download in all cases
Perform live or recorded consecutive interpreting exercises
Perform live simultaneous interpreting exercises
Sanako Conference Interpreting
Hardware, Software & Online
Hardware, Software or cloud based conference interpreter training systems
The Sanako Range of Conference Interpreter Training Systems meets any institution's requirements and budgets. From fully integrated hardware, software and online systems to any variation of modules working either locally or online.
Integrating seamlessly into any existing Sanako Study 1200 Range Languages System or university network. Simply select the elements required such as hardware, software and online to provide the ultimate in blended learning conference interpreting technology.
Hardware & Software Integrated Interpreting Systems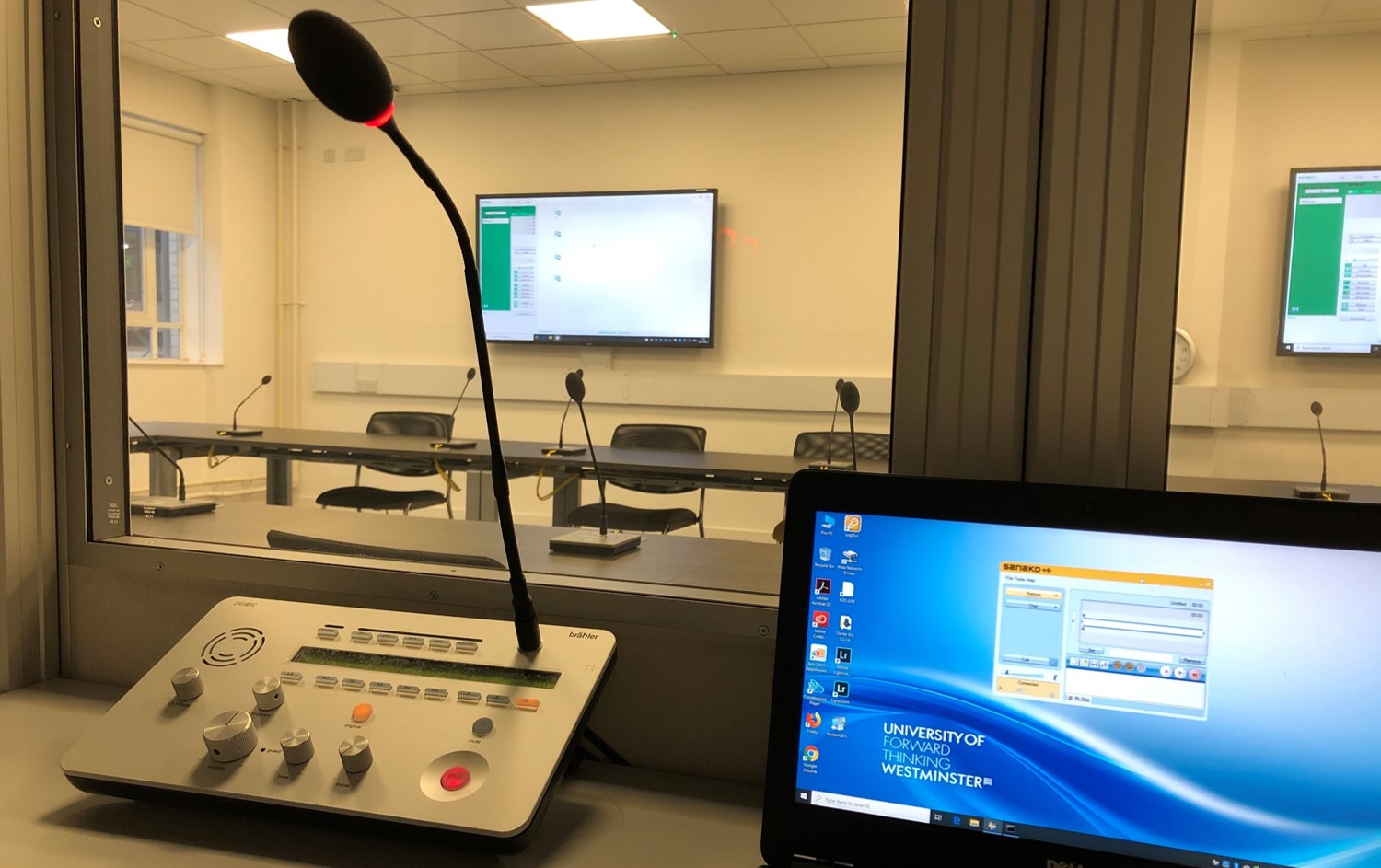 The full function conference interpreting suites combines traditional hardware technology within the suite for real world experience and the software element allows for intuitive, and often automated, use by the tutor. The software can be deployed to different parts of the network for various activities and of course online with Sanako Connect, which has proven very popular with Languages Centres, UWLP and Interpreting Departments. Often the Sanako Study 1200 Language Centre is used initially for interpreting practice in the first year before students graduate to the full hardware systems.
Software Only Interpreting Systems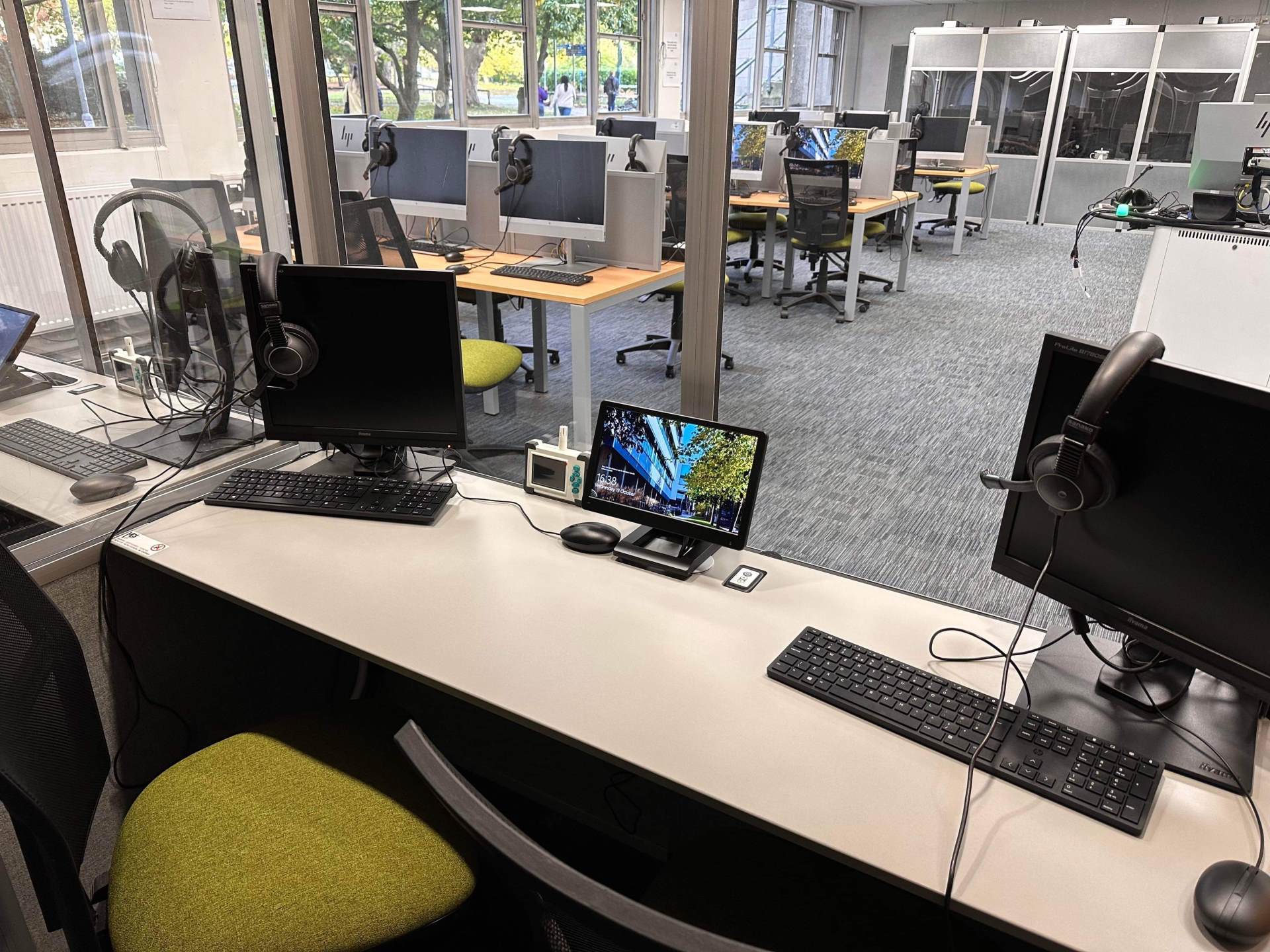 Any Combination of Hardware, Software and Online
The flexibility of the unique Sanako software modules enable any variation or specification. You may require laptops or tablets to be used. Alternatively computers only to be available in the single or double interpreting booths, whilst the delegates conference table remains as clear as possible. This popular method of deployment simulates many professional conferences which take place around the world.
When incorporated with the Sanako Connect online module activities can also range from embedding conference files and YouTube URLs to live instant feedback on pronunciation or video dubbing.
Whilst most universities already use the Sanako Study 1200 system within their Languages Departments, it is not uncommon that these systems are also used for conference interpreter training as well as UWLP and modern languages lessons.
With the latest software-only Interpreting systems any room can quickly become an additional conferencing suite by simply using laptops/tablets. This new Conference Interpreting Module allows delegates and interpreters to literally walk in with their laptop and walk away with their work for later revision. This is a great starting point for interpreting students as they progress to the full hardware system.
Online Conference Interpreting Systems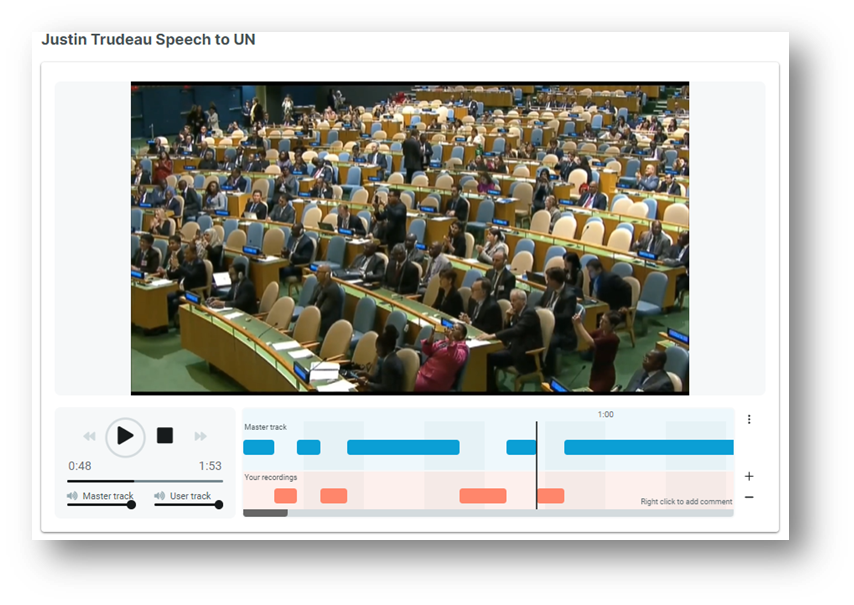 Synchronous & Asynchronous Interpreting Online
In the vast majority of installations are now incorporating the Sanako Connect Online system. This advanced system can provide both synchronous and asynchronous interpreting activities on any device an in any location. Should you wish to perform simultaneous or consecutive interpreting exercises in class or remotely, Sanako Connect requires only internet access to work and is fully GDPR compliant.
Sanako Conference Interpreter Training Systems deployed in Universities around the UK & Ireland
Sanako Conference Interpreting
Watch the Video To Learn More About Sanako Conference Interpreting Technology