School or Virtual
MFL Student Career Talks
Would you like a motivational talk about how important languages are in the workplace?
How about a 300% increase in GCSE options for languages this year as achieved at a school in the North of England?
David Binns, Director of Operations for Sanako UK & Ireland, has now delivered well in excess of 300 inspirational career talks to students stressing the importance of a second language skill in any chosen career and at initial interview stage. These talks are extremely well received by staff, students & parents with most schools asking for a return visit by him.
The talk itself lasts for around 45 minutes and is often carried out not just to a class but to an entire year group. Students are encouraged to ask questions at the end as David seems to have a natural ability to engage with them at their own level. Read on to discover of his rave reviews.
/i/video/MFL_in_the_working_world.mp4
What The MFL Teachers Say
Hi David,
Following on from the success of your talks in January this year, and the biggest uptake that we have had for Languages over the last 10 years (92 students!), we would love for you to come and visit us again in January 2024 to talk to Year 9 French about languages/GCSE options. Are you still able to do this? We would be very grateful if you would pop in for a visit when you are in the area!
I look forward to hearing from you.
Best wishes,
Rebecca Simpson
Head of Languages
Wyedean School and Sixth Form Centre
---------------------------------------------------------------------------------------------------------------
Hi David,

I just wanted to get in touch to let you know that we have definitely increased our number for GCSE MFL next year. We have received a lot more interest, and, compared to last year, we have had double the number of students choosing Spanish as their first option for GCSE. We are delighted!

Thanks for your support!

Mireia Barrachina Plo
Head of Spanish
Astrea Academy
---------------------------------------------------------------------------------------------------------------
Good Evening David
I would just like to say, on behalf of Stockport Academy, Year 9 and the MFL Department thank you so much for your time and wise words today in your inspirational talk today.
Tonight we had Year 9 Parent's Evening and it was something which was brought up a lot as I discussed MFL options with Parents/Carers and our students. So I would definitely take that as a success as they very much enjoyed your talk.
Thanks again
Kate Rowley
Head of Modern Foreign Languages
Stockport Academy
What the Students say from Wycliffe College
It has encouraged me to want to learn a language as it shows it can REALLY help you in the future.
It has opened my eyes to other cultures, and I found it inspiring.
I have been made much more enthusiastic.
Languages could be the key to getting the job that you want and being chosen out of the many people that apply.
It emphasised the importance of learning a new language and that it can help to get jobs and make friends.
It has inspired me to take a language to A Level and continue this through the rest of my life. David Binns was the one who most inspired me.
I am more likely to take a language because of David Binns.
David was great. He gave us biscuits and gave us a good reason [to take languages].
It has showed how languages can help you for work opportunities. David was the one who shaped my attitude to languages the most.
Queen's Park High School
"You may remember coming to Queen's Park High School in Chester last year to speak to our somewhat moody Year 9s about languages in the workplace.
We had a 300% increase in GCSE options for languages this year, which we are thrilled about!"
Jane Whitehouse,
Queen's Park High School, Chester
Ss John Fisher & Thomas More RC High School
"Thank you for the excellent talks today. You were so engaging and at exactly the right pitch for our kids.
Lots of them said they enjoyed it. 'Miss, he was well funny!' Thank you for giving up your time today, they found it inspiring."
Alkelda McClelland,
Fisher-More Roman Catholic High School, Lancashire
The Hollins School
"Today we've been really lucky to have David from Sanako delivering a motivational talk to our Y9 students.
He really got the point across about how important languages are in the workplace whilst making it relevant and fun too! Merci beaucoup, muchas gracias."
Jennifer Wozniak,
The Hollins School, Lancashire
Reddish Vale School
"The languages community is very lucky to have you sharing this experience and wisdom. It is refreshing to hear a non-teacher voice giving these messages which are vital for our community and economy now and in years to come!"
Alice Harrison
Reddish Vale School, Stockport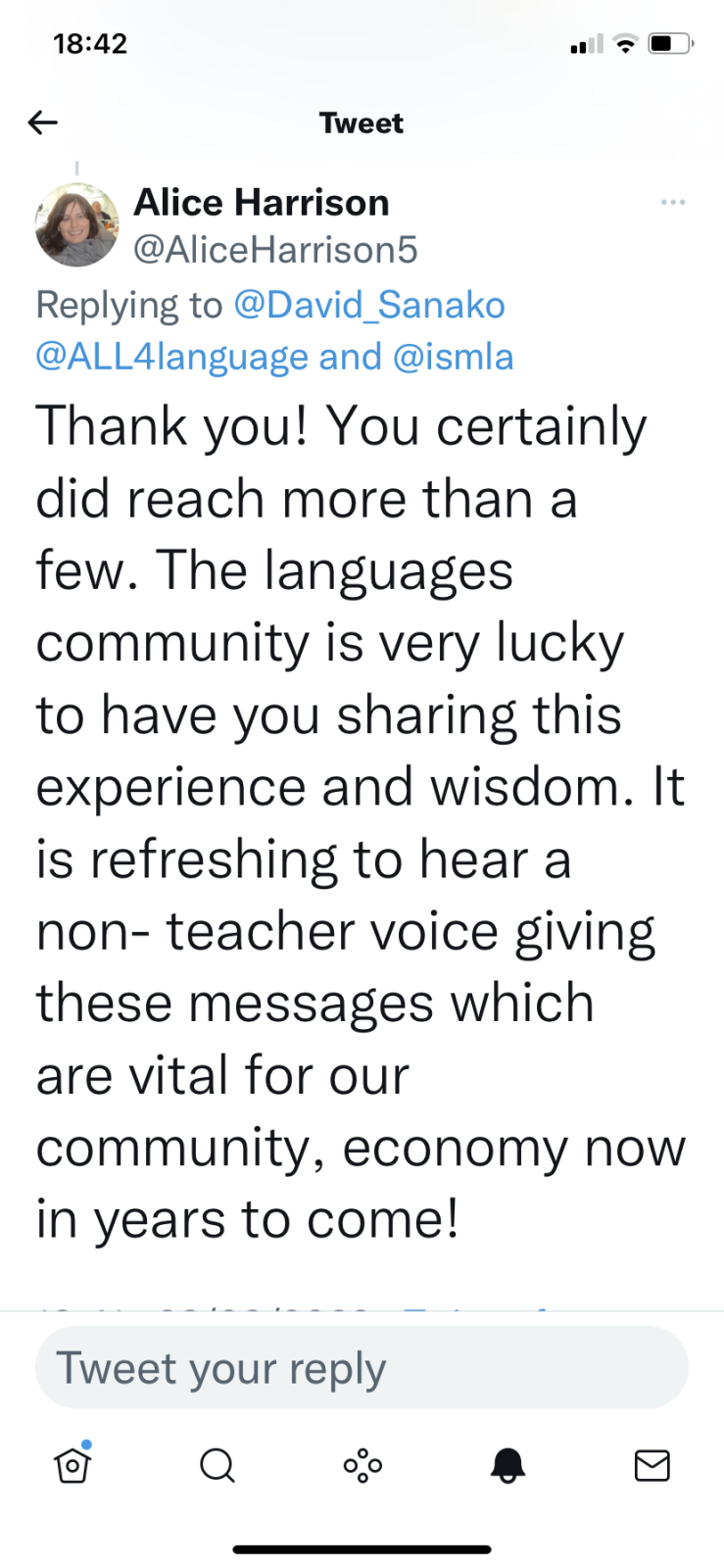 Wyedean School & Sixth Form College
"David, just wanted to say a huge 'thank you' for today! Feedback from teachers who had Year 9 was that they were 'buzzing' and it was inspirational! We really appreciate you taking the time to come and visit us today!"
Becky Simpson, Head of MFL,
Wyedean School, Chepstow
Debenham High School
"Thank you so much for taking the time to come and see us here at Debenham High School.
It was such an interesting & inspiring talk, we hope to see you again soon
Katie Morton, MFL Dept
Debenham High School, Suffolk
Monmouth Comprehensive School
"Inspirational Talk this morning to Year 8 by David at Sanako UK about the importance of a language skill in ANY career especially in obtaining that first face to face job interview
Jill Snook,
Head of International Languages
Monmouth Comprehensive School
Social Media Comments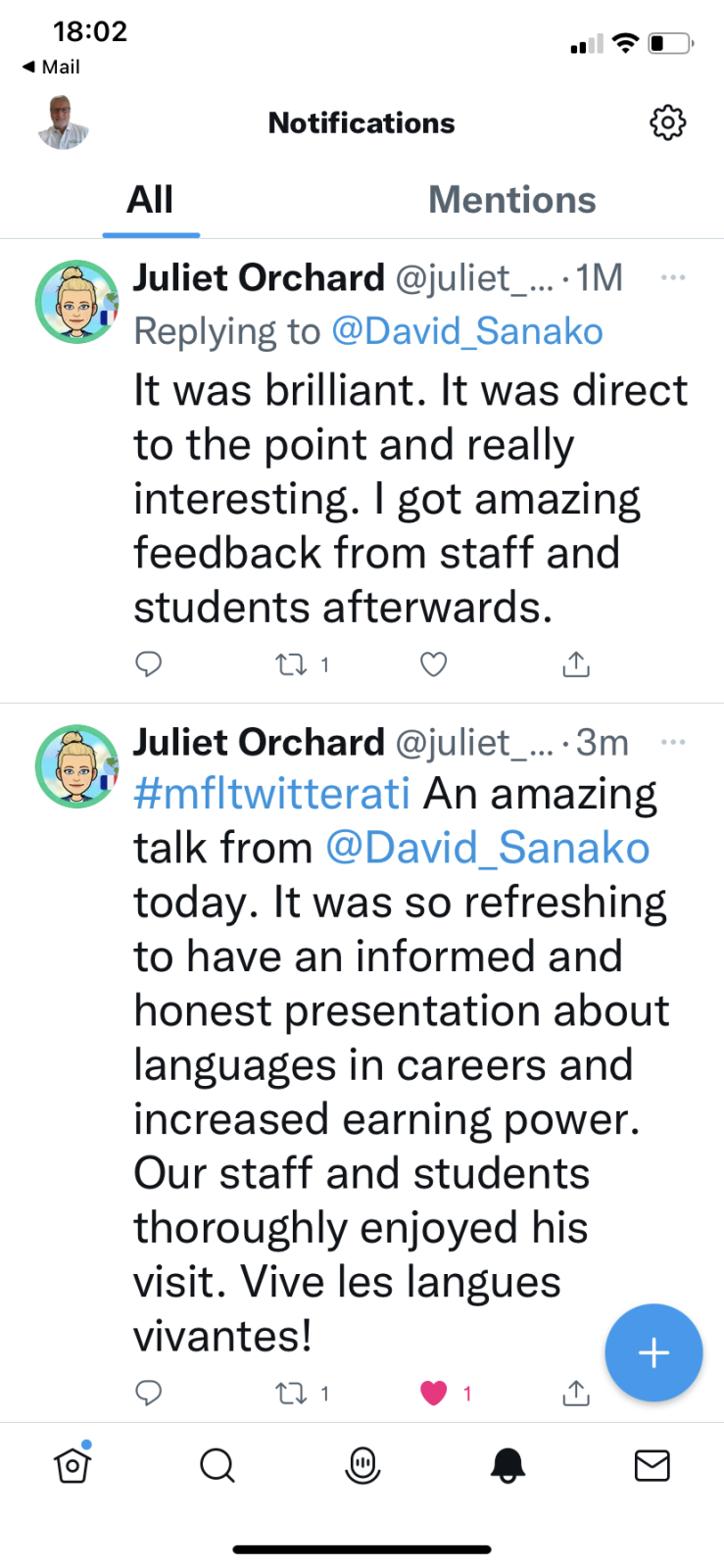 Contact us for more information here