Customer Case Studies
An MFL or interpreting system to meet every customers need for today & the future
Monmouth Comprehensive School
Monmouth Comprehensive School in South Wales have been delighted with their purchase of licenses for Sanako Connect Online, promoting independence and confidence amongst students across a range of skills. Students study French, German and Spanish GCSE and A-Level. The International Languages Faculty is also a Learning Network School for the EAS (Education Achievement Service), which supports and promotes language learning with other schools in the area, through the Welsh Government Global Futures Strategy.
At Monmouth, students are passionate about International Languages, and we are proud to offer them a wide range of opportunities. As the new Welsh Curriculum approaches in 2022, we are working hard to develop our students into ambitious learners and confident individuals across a range of language skills.
The past 18 months have been transformative in terms of how we deliver our courses to students. On paper, delivering a language course at a distance seems like a tall order, but with Sanako Connect, we have been able to continue to provide our students with a wide range of opportunities to access authentic language resources to aid their development. The remote training we received was invaluable for the International Languages team, and allowed us to really stretch ourselves with what we could offer students virtually. The team at Sanako has been incredible, and are always able to provide answers to our questions, as well as keeping us informed of the latest innovations in the software.
While we initially used Sanako Connect as a remote extension of the Sanako Study 700 system installed on our school laptops, the additional training allowed us to explore beyond the recording functions. In particular, we have been able to offer entire remote lessons for Key Stage 5 that use a variety of media to inform students on a topic, elicit responses from them in writing and orally, before providing them with exam style gap fill, multiple choice or translation questions.
Within the Connect platform, teachers don't only get the opportunity to create dedicated exercises, but can monitor, assess and interact with their students. Giving live feedback through Sanako Connect is also a seamless process, keeping everything in one place. During the recent 2021 period of lockdown in the UK, students of A-Level Spanish really enjoyed exploring topics such as Teletrabajo and Quinceañeras using authentic materials. The flow of tasks could be adapted so that students progressed at a manageable pace; the instant feedback on aspects such as the gap fills was viewed as very helpful to their learning journey.
Thanks to these innovations at Sanako, our courses were able to continue offering students the challenge, support and monitoring that they have come to expect, alongside maintaining their confidence in their language skills. With our licenses renewed for another year, we are looking forward to bringing more varied Sanako Connect exercises down into Key Stage 4, who, up until now, have mainly used it to practice role play and conversation tasks. We remain delighted in using Sanako's software as the positive impact on progress and student confidence is clear.
Jill Snook, Faculty Leader for International Languages, Monmouth Comprehensive School
University of Leeds
Conference Interpreter Training for the 21st Century
The University of Leeds has an international reputation for excellence in teaching and research and is part of the prestigious Russell Group of research-intensive universities. The University of Leeds is also a partner university of the Directorate-Generale for Interpretation, and enjoys close ties with international organisations including the UN.
During the COVID-19 lockdown in the UK, colleagues across the university have been working to secure solutions to enable the continuation of study and assessment. One of the most effective solutions adopted for teaching and assessment by the MA Conference Interpreting and Translation Studies, MA Business and Public Service Interpreting and Translation Studies programmes in the Centre for Translation Studies, University of Leeds, has been Sanako Connect. Totally on-line and compatible with most devices, only internet access is required by this Blended Learning Interpreting system
Sanako Connect is designed to be a module for an existing Sanako Study 1200 interpreting system which has been in use in the interpreter training facilities in University of Leeds. With Sanako Connect, the tutors create a virtual class, which works in the same way as a conventional interpreting lab. In the virtual class, the class QR code is posted with MS Teams and each student assigned to that module can comply with all current GDPR regulations. When the student clicks the link, the exercise is automatically downloaded onto their device and an icon for each student (including the student's name) appears on the tutor's screen, at which point the tutor can start the class/assessment
With Sanako Connect, the tutors are able to do pretty much everything that can be done with a conventional interpreting lab - monitor what each student is doing, talk to all the students, or an individual student, and even allow everyone to discuss the exercise together, beforehand and afterwards and also practise PSI activities online. The exercises specific to the activity are easily inserted in the platform by the tutor, and can be downloaded automatically when students click on the link. The tutors can choose whether it is for consecutive or simultaneous interpreting with audio or video exercises.
Screenshot of Sanako Connect in action
During the online teaching and online assessment of interpreting modules, tutors are able to monitor individual students while they are carrying out the exercise and, when completed, their recordings are submitted to the tutor - in simultaneous exercises the recordings can be done in dual-track, allowing the student and original speech to be recorded on separate channels, as they do in the interpreting suites.
David Binns from Sanako UK has been very professional and helpful in guiding us through the application of Sanako Connect and answering the questions raised by the tutors and students, and coordinating with the Sanako team to enhance some configurations to meet the specific needs of University of Leeds Centre for Translation Studies.
Lihong Pan, Programme Manager of MA Interpreting
St. Benedict's School
St. Benedict's School is a successful blend of the traditional and the progressive; proud of its heritage but also forward thinking and innovative. Within a caring, happy community, our pupils thrive, benefiting from a seamless education which can begin at the age of 3 and continue through to the Sixth Form. St Benedict's combines strong academic standards with outstanding personal development, and enables all children to develop their full potential.
St. Benedict's is a Catholic, Benedictine school and has always understood that education is about enriching lives. It is so important that pupils engage with their learning. That is why, at every stage, we challenge them to think, learn and research independently; to be curious, ask questions and go beyond the syllabus.
Remote and Blended MFL Teaching
We have had a Language Laboratory since the early 1980's and some of the existing staff still fondly remember the original reel to reel and cassette recorders! We originally invested in a Tandberg Lab which we updated to a Sanako Study 1200 system when we moved into our new building. The new Sanako Lab is used on a rota basis for every lesson in the day and about 600 pupils regularly use this facility every week. They do listening comprehension, work and video conferencing on a regular basis and we find that it adds significantly to their subject knowledge and their enthusiasm.
When the 2020 COVID-19 lock down began in March we immediately logged on to Sanako Connect On-Line so that our pupils were able to seamlessly continue with their language lessons. They have continued with live whole class activities, since the teacher can address the entire group or individual, but also with their individual recordings. Feedback has been easy to provide and the self-correcting vocabulary tests have been especially appreciated. Looking to the future, we intend to make full use of the upcoming 'super Lab'which will combine Sanako Connect with the onsite laboratory to provide our pupils with even more opportunities to develop their linguistic skills.
Dr Thomas Ennis, Senior French Teacher, St, Benedict's School
Lasswade High School
Getting To Grips with SANAKO Study 700 Language Centre – Initial Impressions
Lasswade High School is a large (1500 pupils) co-educational, non-denominational secondary school in the small market-town of Bonnyrigg, Midlothian. We are about twenty minutes from Edinburgh city-centre. The school has a long history but we moved into our new building in 2013. However, our association with SANAKO predates the move by many years, though, when we moved we were asked what equipment we would like to have installed in our new classrooms, we went with the SANAKO LAB 100 system, which served us well until we decided to upgrade to the software SANAKO Study 700 system in 2019. Lockdown interrupted our roll-out of the new system to our pupils considerably but we are now busy catching up on lost time. We are currently getting to grips with what the Sanako Study 700 system can do. At present our French, German and Spanish teachers are sharing a class set of HP Probooks and introducing our pupils to all the features the Sanako system offers.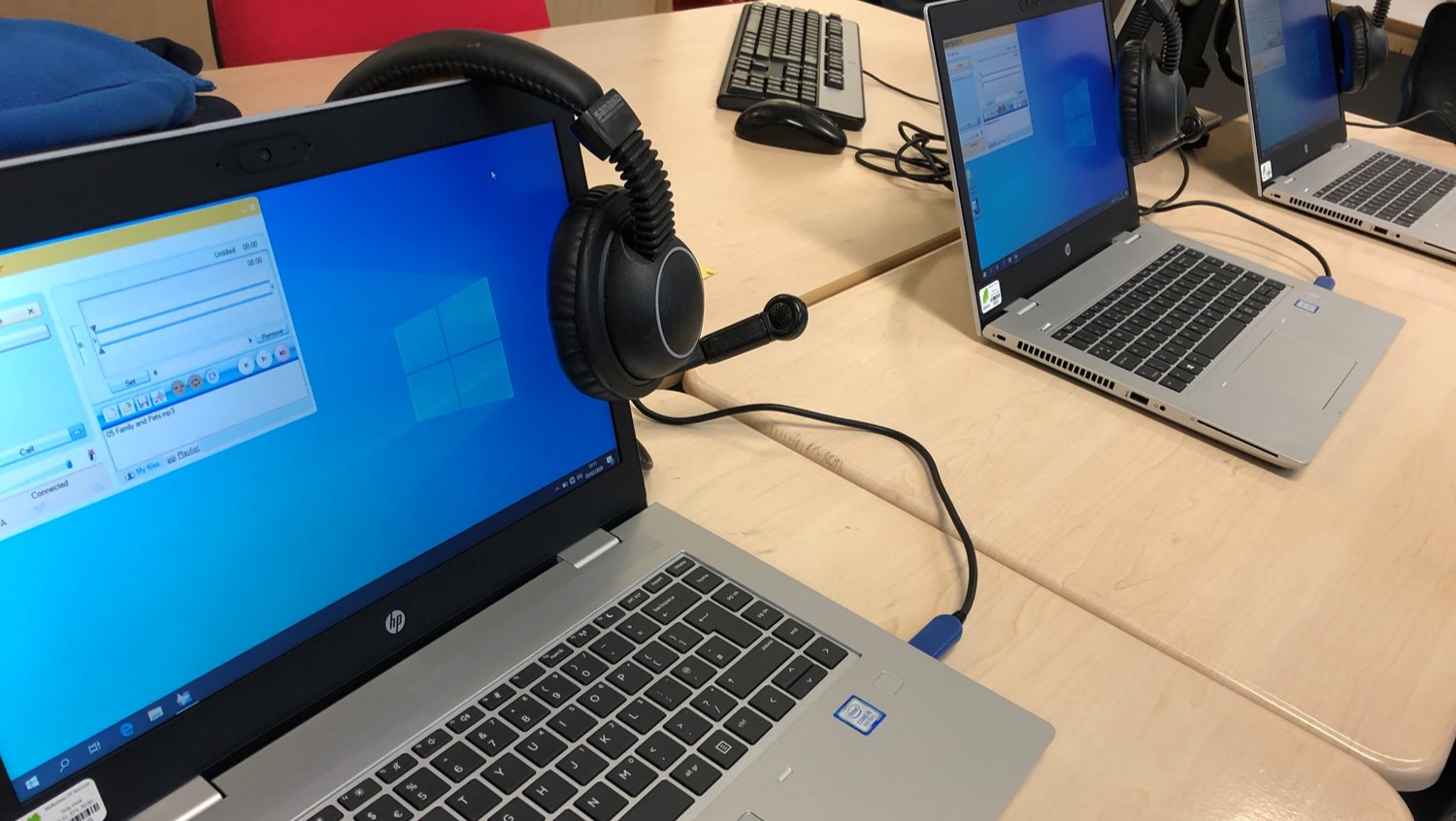 The response from pupils has so far been very positive; they have enjoyed using the vocab tests, web-browsing facility and the discussion functions. The ability to call for help discreetly is appreciated as are the 'traffic lights' and the quiz function. They have also had fun recording themselves speaking (although nobody ever seems to enjoy listening to themselves afterwards, or so they say).
From the teachers' point of view, the ability to have pupils working in different groups simultaneously, doing different tasks is extremely useful and flexible. When it comes to listening, it is very convenient to be able to allow pupils to work at their own speed and differentiation of tasks is greatly simplified. Being able to add instructions, graphics and even subtitles increases the level of support that we are able to offer our learners. Additionally we are looking forward to using it to conduct speaking assessments later in the year, especially our National 5 and Higher Performances (speaking assessments).
Although we are in the early stages of using the equipment, it is already clear that the sharing of resources on the system is going to be straightforward. So successful has the introduction of SANAKO Study 700 been, that our Mandarin-teaching colleagues (Lasswade School is a Confucius Hub), will be investing a large part of their funding in acquiring a half-class set of Probooks for use in their classes. This will give us the ability to have up to 45 pupils working simultaneously across the department (and I will not be surprised if the French, German and Spanish teachers request further investment in more Probooks).
The level of support that we have received from SANAKO (Mr Binns and Mr Taylor in particular) have been second-to-none. All requests for support are dealt with very quickly, almost always on the same day. Mr Binns is no stranger to our school (He has visited us regularly, not just to demonstrate the system, but also to take part in Modern languages events designed to increase the number of pupils choosing to continue with languages) but being unable to come up and see us in person due to the ongoing pandemic, he has made himself available to support us via Zoom sessions. These were an excellent supplement to the very good support offered online by the company.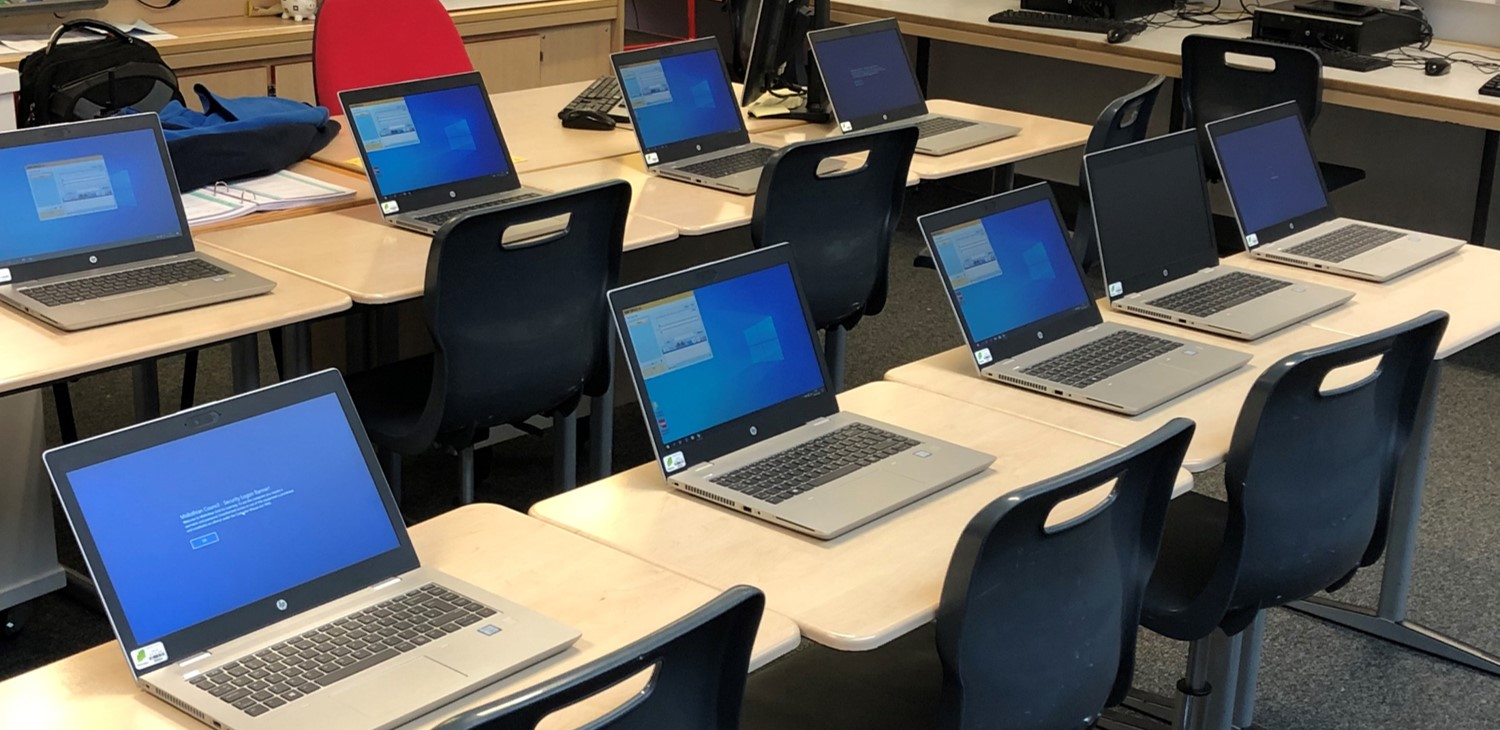 We hope in the months ahead to be able to expand the range of functions available to us. In these uncertain times, if we are faced with school closures again and moving back to online learning, these will put us in a very strong position to be able to continue offering a high-quality educational experience for our young Modern Linguists. And if – fingers crossed – we are able to stay open, we will certainly be using the ability to set homework. We will for the first time be able to set work spoken work to be done at home and returned for assessment and feedback. We are particularly keen to begin using the voice-insert function to offer feedback in spoken form as we feel that pupils will find this to be a really user-friendly method. So, in summary, it's been a major investment of time and resources for us so far but we feel that this equipment is going to make a big difference in terms of helping us increase uptake and improve attainment in Modern Languages and we would heartily recommend it to other schools considering joining the SANAKO community.
But I will let some of our pupils have the last word:
I think using SANAKO has been different and a fun way of learning and it's easy and straightforward to use once you're on.
I think it would be really good to use in the future and that lots of pupils would like using SANAKO … and I would like to use it again.
Would be good for homework.
I like how it sends things automatically without you having to click anything. It was easy to get onto and figure out what to do with it. I like how you can also do voice recordings and listen to other people's and hear other people with the headset on and you can communicate through SANAKO and talk to each other.
I think SANAKO helps me learn because you can listen to the words and that can help pronunciation.
I found it quite good and I liked doing it. I also found it quite useful that you get to practice your French literacy and accents as well. I didn't find anything bad about it.
I think that SANAKO is a good way to learn because using the website makes everything easy.
It's useful. It's easy and hard sometimes. It's really good for tests and homework.
James Poots, Principal Teacher Modern Languages, Lasswade High School
University of Westminster
The University of Westminster invests in fully integrated, local & online Conference Interpreting Technology
Situated in the bustling heart of London, the University of Westminster began its life as the Polytechnic Institution in Regent Street in 1838. It became a major draw in Victorian London, with its photographic studio which was the first in Europe in 1841, and as the venue for the Lumière brothers' first public moving picture show in the UK in 1896.
The University boasts a rich history, and today still delivers cutting-edge teaching and research to students from all over the world. Our School of Humanities offers courses in a wide range of disciplines including translation and interpreting, modern languages and linguistics. The Masters Course in Translation and Interpreting, open to native and non-native speakers of English, combines English with Chinese, French, German, Italian, Polish or Spanish.
In 2021, and in the shadow of the Coronavirus pandemic, the University took an inspired decision and updated its existing technology offering for students. Now the School of Humanities boasts several state-of-the-art Sanako language and the latest conference interpreter training facilities. These flexible and technologically advanced Sanako systems, based around the extremely popular Sanako Study 1200 and Sanako Connect Online, enable students to practise in a real life conference interpreting environment.
Zoé Brill Diderich, Lecturer in interpreting at the University, continues " Our facilities, consisting of a software only conference interpreting facility which can be used campus wide, an online facility for simultaneous and consecutive interpreting and two large professional interpreting suites, each fitted with soundproof booths, enables users to practise their skills, using video and audio feeds. Interpreters access these exercises, which they can upload directly into the system once completed".
"The combination of hardware, software and online technology really offers a fully blended learning solutions which meets our current needs and any future requirements which may arise."
The quality of teaching is greatly enhanced with the added software features, which can be used in the additional dedicated language space, as well as remotely, to enable students to practice from virtually anywhere.This technology allows the department to make conference interpreting practice a feature of our virtual learning environment. The software can also be used for role-play practice for public service interpreting if required. The intuitive user interface for both the tutor and the student allows lecturers to set instant exercises to students, working in groups or independently, and to record and save their work, for assessment and feedback.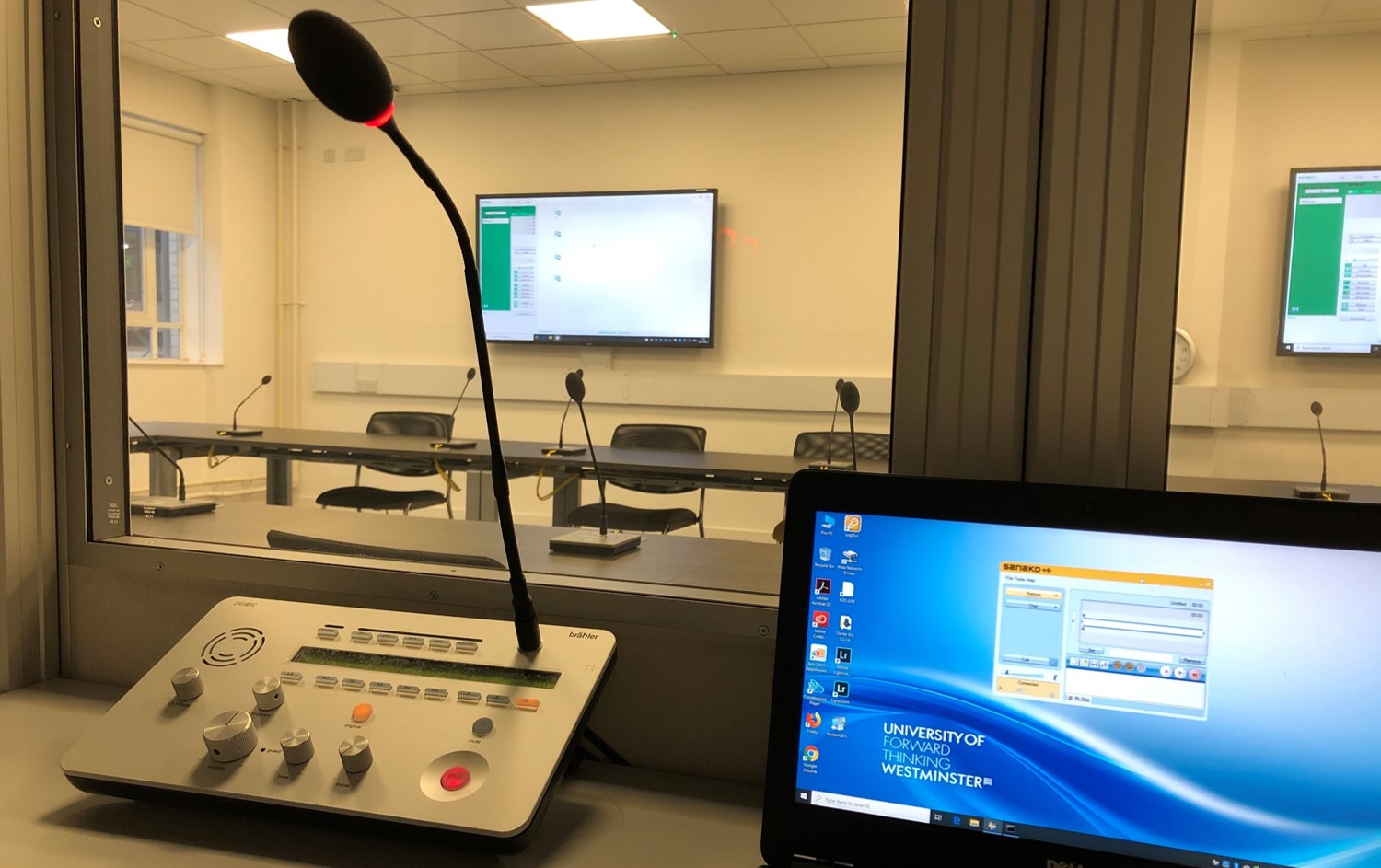 This is a tremendously valuable tool to track the students' progress, but also to provide a secure method of assessment, either on site or online. Additionally, if working online, the students have the ability to work in either synchronous or asynchronous mode making it extremely flexible for the busy tutor and student.
The department have been looking forward to this upgrade for some time, and the Sanako UK team has been hugely supportive in ensuring the installation was speedy, making sure that users were taken through the system step by step. We have benefited from live online support to learn how to use the software, and the Sanako "how to" videos are easy to follow. It is reassuring to know that if we need live virtual assistance or even local visits to the University, pandemic permitting, this help is only ever just a phone call or email away.
Zoé Brill Diderich, Lecturer in Interpreting, University of Westminster
Monmouth Comprehensive School - Primary Transition
Inspiring Primary School Students to Enjoy Languages at Monmouth Comprehensive School
At Monmouth, students are enthusiastic about International Languages, and we are proud to offer a wide range of opportunities. Students study French, German and Spanish GCSE and A-Level in addition to extra offers in Italian, Mandarin, and Arabic languages. Monmouth Comprehensive School in South Wales already use Sanako Connect Online, to promote independence and confidence amongst students and are now looking at ways to use it as a key transition tool. It is an exciting time of change for languages in Wales with the introduction of a new curriculum in 2022.
This encourages a variety of approaches and connections between languages and across the key stages including Primary. We are working hard to develop our students into ambitious learners and confident individuals across a range of language skills. The International Languages Faculty at Monmouth Comprehensive School is also a Learning Network School for the EAS (Education Achievement Service), which supports and promotes language learning with other schools in the area. The team are always innovative in trialling new materials as well as involvement in many other International Languages projects (Student Mentoring Project at Cardiff University, Erasmus Project "Innovative Language Learning in Bilingual Countries).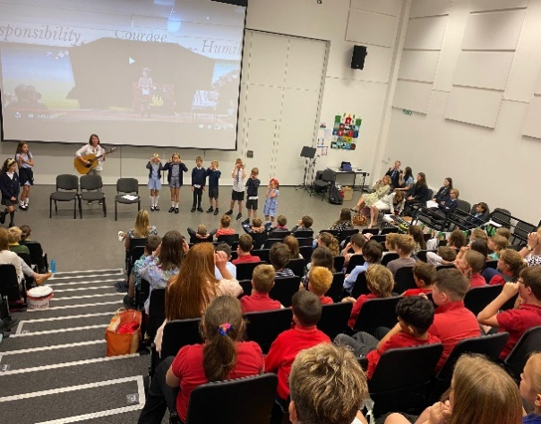 For the last 2 years we have been planning a new curriculum to deliver in KS3 and the next few years will be crucial in evaluating how successful students have become as confident linguists. Sanako Connect has supported our secondary learners in their speaking and listening skills. We are looking forward to developing this in Primary Schools too. The focus of the new curriculum for languages is to encourage lifelong learners starting in Primary and continuing the journey beyond Secondary School.
We have positive relationships with our cluster and have worked with them for many years on projects to encourage an enthusiasm and curiosity about languages amongst younger learners. This has been strengthened by the new curriculum and the requirement that at least one international language is taught, and more than one language is even more beneficial. The focus is on immersion and awareness of languages.
Sanako Connect, has given us the opportunity to connect with Primary Schools and provide authentic language resources. This supports teachers whilst also demonstrating a collaborative approach to delivering between the secondary and feeder schools. In the summer, we created some simple transition activities for the feeder schools in 3 languages, which enabled students to use a QR code and to submit their work. The activities included a simple repetition activity, multiple choice quiz and a listening activity. This was supported by a video introducing the activities by myself, which teachers could show in class and the activities completed independently at home. This was initially a trial activity and one which we would now like to develop in the next year.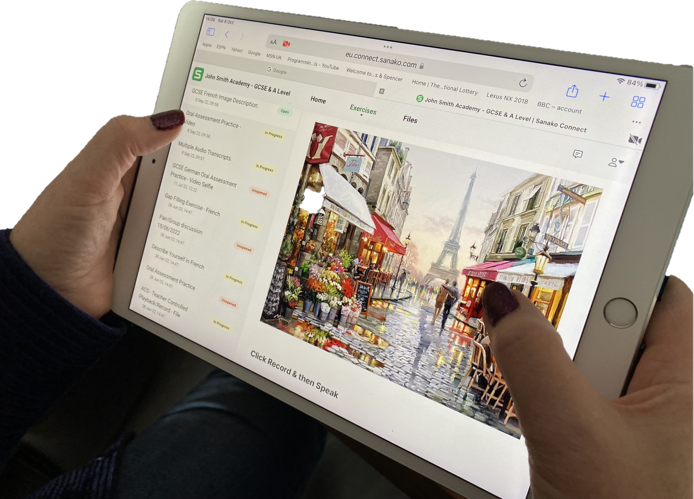 In a recent meeting with the Primary School Head teachers, the plan to include a half termly activity through Sanako Connect, to engage students and strengthen transition links, was received enthusiastically. Plans are now in place to set up a class via Sanako Connect for Year 6 in all feeder schools to access and be able to submit work. This means students will receive feedback from the International Languages team at the Secondary School. In addition, we are investigating how we could stretch ourselves so that we could offer students lessons virtually via the live video link through Sanako Connect to the cluster simultaneously. The team at Sanako UK has been incredibly supportive and we are looking forward to exploring these opportunities through this platform.This is a fantastic opportunity to develop online learning to strengthen transition links, thus developing consistency and seeing clear student progression in language skills.
We are looking forward to introducing Sanako Connect exercises as a regular part of our transition process using to develop phonics, listening and simple conversation tasks. We are confident that Sanako Connect will have a positive impact on progress and student confidence, which will be evident when they join us in Year 7.

Jill Snook, Faculty Lead for International Languages, Monmouth Comprehensive School
Gateways School, Leeds
Fiona Wilson, Head of Modern Languages at Gateways School, talks about her Sanako experience
Gateways School is a small independent school near Leeds which is not academically selective yet does an amazing job in terms of value added for our pupils. In the MFL department we enjoyed using the Sanako LAB 300 system in a designated computer suite for nearly two decades, but it was really time for an upgrade to Sanako Study 700!
The team at Sanako UK have been superb in terms of advice and the support after upgrading has been incredible. We switched to wireless laptops, which is more flexible as we can use it with various classes in different rooms at the same time.
Using the new laptops with the specialised MFL headsets (definitely worth investing in the Sanako ones as ours have lasted for at least 15 years!) has increased motivation generally in lessons. The facility to listen to recordings at their own pace is invaluable. This is especially important as we have a very wide spread of ability in every class including GCSE. It is also a great way of sending differentiated work to different pupils without it being obvious.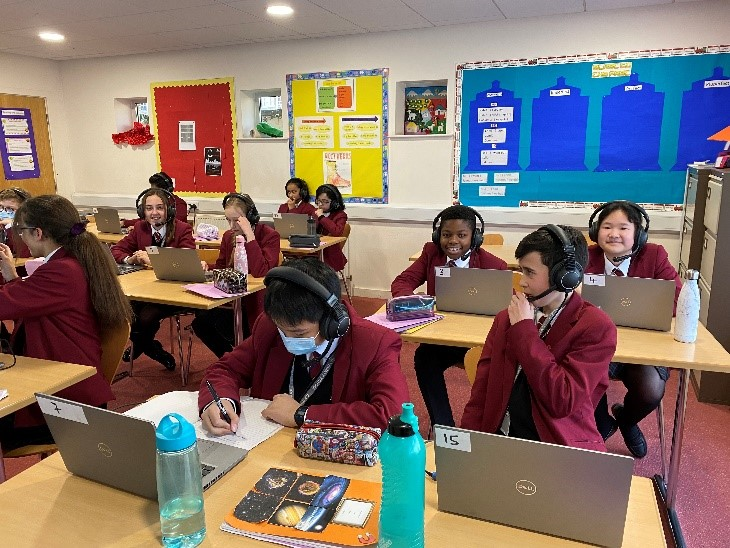 The pupils never lose the excitement when we put them into pairs and groups: "Hello? Hello?" they say in English despite asking them to please say it in the foreign language! They soon settle to the task set for them and whilst they are talking the teacher can listen to them and help with pronunciation and other suggestions. Pupils can request help and have a private conversation with their teacher using the headsets.
Best of all, the system allows teachers to collect the recordings and insert helpful comments into the recordings which pupils can then use as personal feedback. Research has shown that verbal feedback is the best way to help pupils progress, so this facility enables us to do just that in an efficient and effective way. Other functions are doing polls and live feedback to check pupils' understanding, which can be done spontaneously by the teacher in class.
"Having Sanako has helped us overcome the
issues of mixed ability teaching and
learning, ensuring all pupils are supported,
challenged and motivated... "
Pupils can be set a "playlist" of activities which can be tailored to their specific individual needs. They can work independently and ask for help when necessary. Optional extras are the vocabulary testing, which, in my opinion, is more user friendly than other more expensive programmes available and the online version Sanako Connect, which can be used to set both class and homework tasks, including personal recordings, videos and links to websites.

In short, having Sanako has helped us to overcome the issues of mixed ability teaching and learning, ensuring that all pupils are supported, challenged and motivated and in this way their confidence can grow. Plus, the pupils have so much fun, they don't realise they are learning!
Hill House School, Doncaster - BYOD for MFL
Bring Your Own Device for the Modern Languages Department.
Hill House School is an independent day school for girls and boys aged from 3 to 18, who pride themselves in being able to bring out the potential in all children. At Hill House, class sizes are small resulting in high expectations and very high standards of academic success; the school is very proud of its examination results, which are among the best in the country. Hill House is a community built on outstanding relationships. Teachers know their pupils very well, and every child is known as an individual; for their strengths and needs.
English, mathematics, sciences, humanities, and modern languages are all important subjects within the curriculum. Pupils enjoy a significant academic variety, encompassing subjects as different as computing and philosophy, politics and ethics, economics, and Latin. Hill House is the highest performing school in the area for GCSE and A Level results, with 97% of its Upper Sixth Form leavers gaining places at their first choice university
Always forward thinking and innovative, the school, and the Modern Foreign Languages Department, have embraced a Bring Your Own Device (BYOD) strategy to leverage the enthusiasm pupils and staff have for their own devices and the potential within digital technologies for the benefit of teaching and learning.
After many years of successfully using their Sanako Study 1200 language system, for the school's Modern Languages Department it was vital that this same dedicated languages functionality was made available on any platform that students may choose.
Systems must be GDPR compliant, reliable, simple to use, quick to access and work both synchronously and asynchronously. In particularly, for the MFL department, the unique voice insert activity for student assessment and feedback was a sought after feature. The school's head of MFL, Mrs Sabel-Pereira, and Director of Technology and Digital Strategy, Mr Kristan Jackson, began rigorously investigating the options available. Ultimately it was the Sanako Connect online system which both met and surpassed the required specification. After a successful trial of the system by the MFL department it was implemented at the start of term with a seamless transition and enthusiastic uptake among pupils and staff.
A follow up article from Hill House School's Modern Foreign Languages Department covering its progress will be published in the next issue of this newsletter, which is anticipated to be very positive.
Mrs Catarina Sabel-Pereira, Head of Modern Foreign Languages at Hill House School
Mr Kristan Jackson – Director of Technology and Digital Strategy at Hill House School
GwE North Wales - Sharing MFL Resources & Teacher Skills via Hub Schools
Sharing MFL Resources & Teacher Skills via Hubs Schools
Global Futures is a Welsh Government-funded programme and commitment to expand the teaching of International Languages in schools in Wales.
It's vision, which reflects that of the new Curriculum for Wales (September 2022), is that Wales becomes a truly multilingual nation and for learners to experience the range of benefits from learning International Languages as they develop into ambitious, capable learners ready to be citizens of Wales and the world.
Since its launch in 2015, the Global Futures programme has helped develop and provide support and many exciting, impactful opportunities for practitioners and learners. It is my privilege to continue in my role as the Global Futures and International Languages Lead for the North Wales GwE Consortium for this exciting new phase in our education system.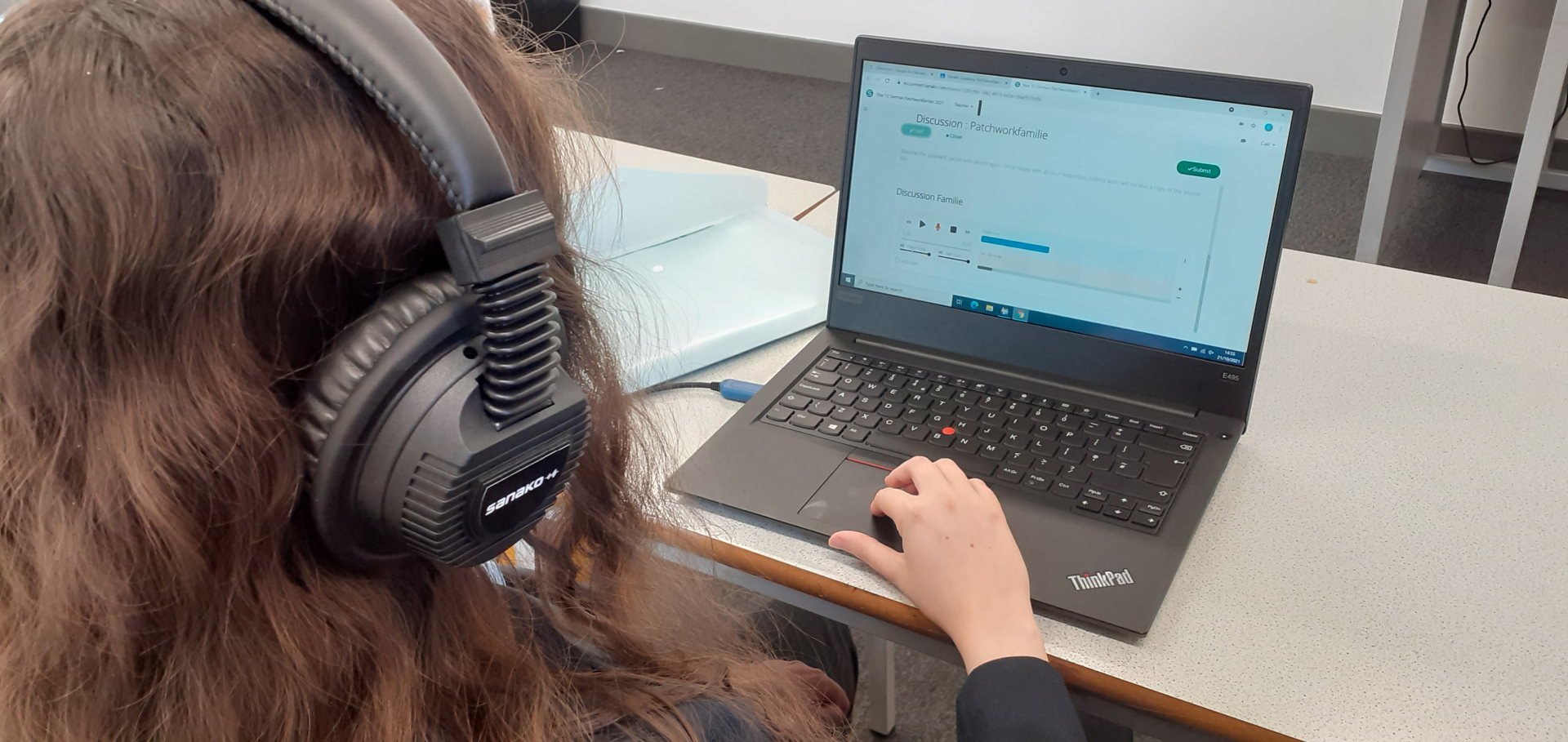 We are very fortunate, in North Wales, to be working alongside Languages teachers in the secondary and the primary sectors who are dedicated and extremely talented practitioners, always striving to give the best learning experiences to their students.
At a time when schools are increasingly being equipped with individual digital devices for learners, we can finally embrace and fully benefit from the Sanako Connect online system and supplement our offer to our learners with a modern, engaging, relevant and innovative approach to language learning.
GwE invests in the latest online MFL technology from Finland to enhance language lessons throughout the region via hub schools and sharing good practice in live streaming mode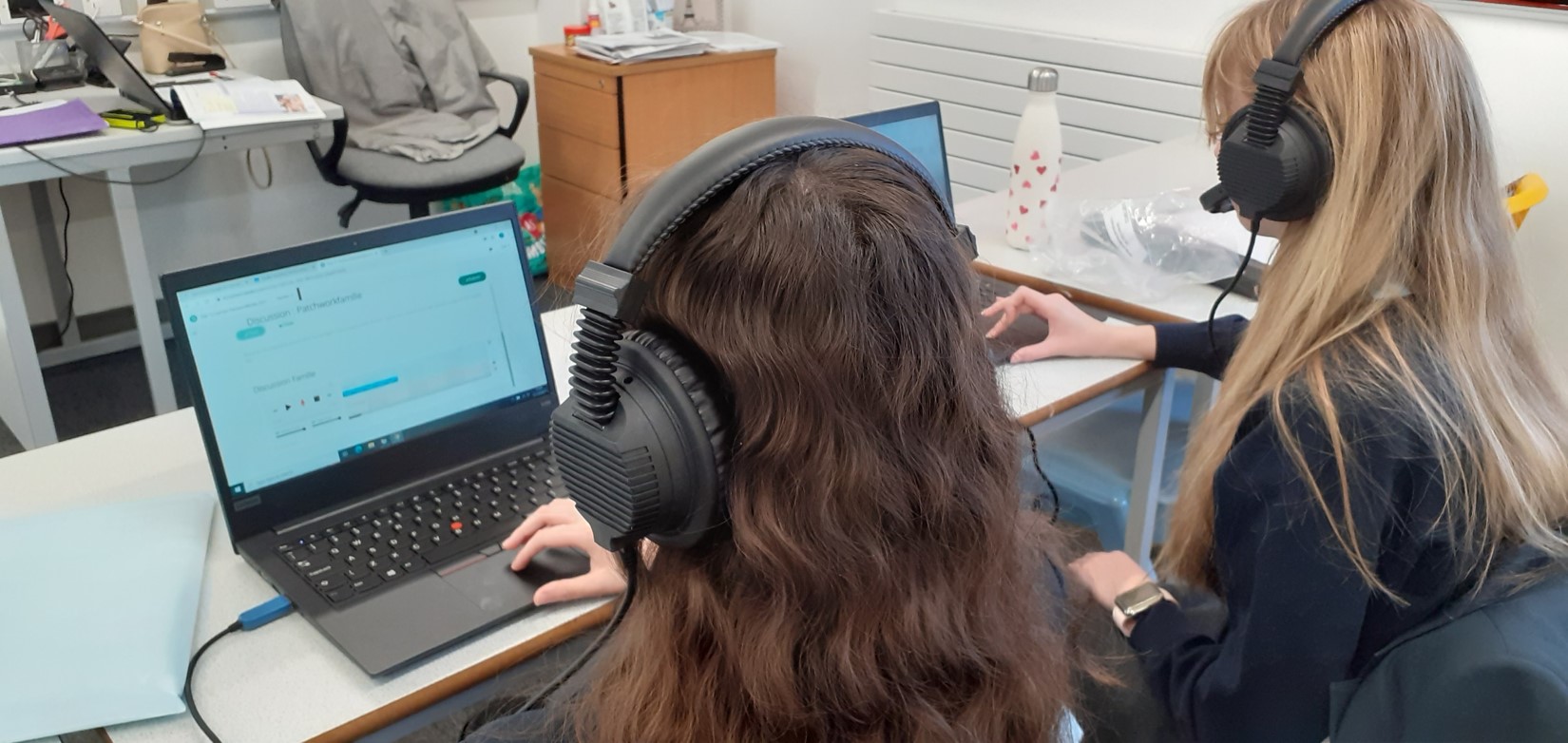 We believe this can also be a good tool to develop interesting projects for Curriculum for Wales and to build creative and impactful links between the primary and secondary sectors which will ensure effective and enjoyable transition for learners.
That is why we, at Global Futures GwE, decided to devise and implement this fully-funded 12 months project in collaboration with Sanako UK.
In April 2023, sixteen secondary schools with around 15,000 students across the 6 Local Authorities of North Wales volunteered to use Sanako Connect software to help students to make even faster progress in their language learning.
Letting Modern MFL Technology Take the Strain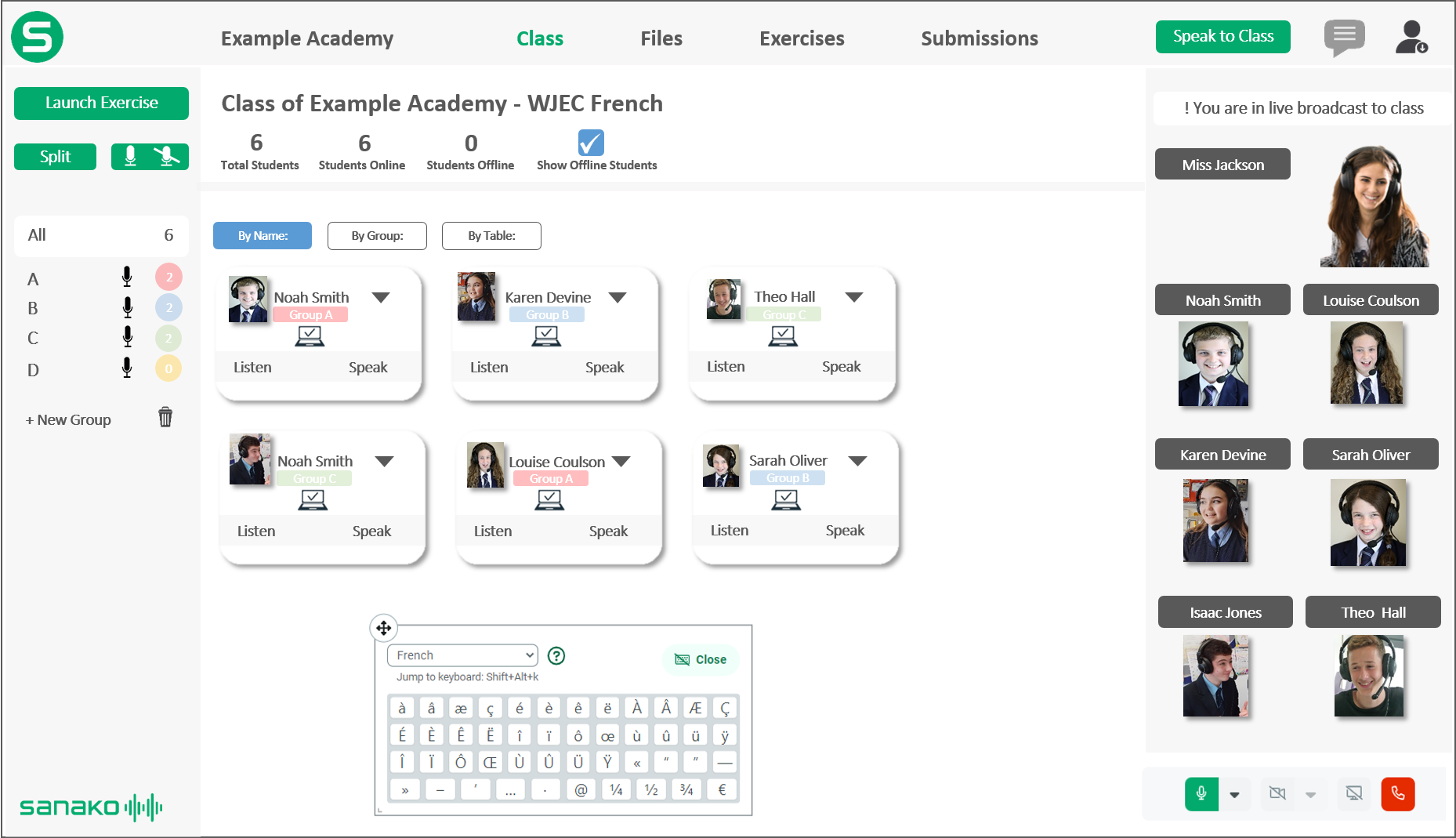 Jamie McAllister, Head of MFL at Ysgol Aberconwy, says:
"My students really love using the pronounced feature in Connect, where they can get immediate feedback on their pronunciation and they love improving and trying to get five stars. I'm looking forward to being able to save hours of time conducting speaking assessments simultaneously with all my class rather than that separately with each student."
Initial feedback
We are looking forward to seeing how each school uses the software and getting feedback on what works the best. It is exciting to see some Welsh and English departments also interested in using the software this year and to work closely with the International Languages department of their school.
We hope this will enable all practitioners within the Languages, Literacy and Communication Area of Learning Experience to engage in stimulating and productive professional dialogues.
Stephanie Ellis-Williams
International Languages Global Futures GwE Lead